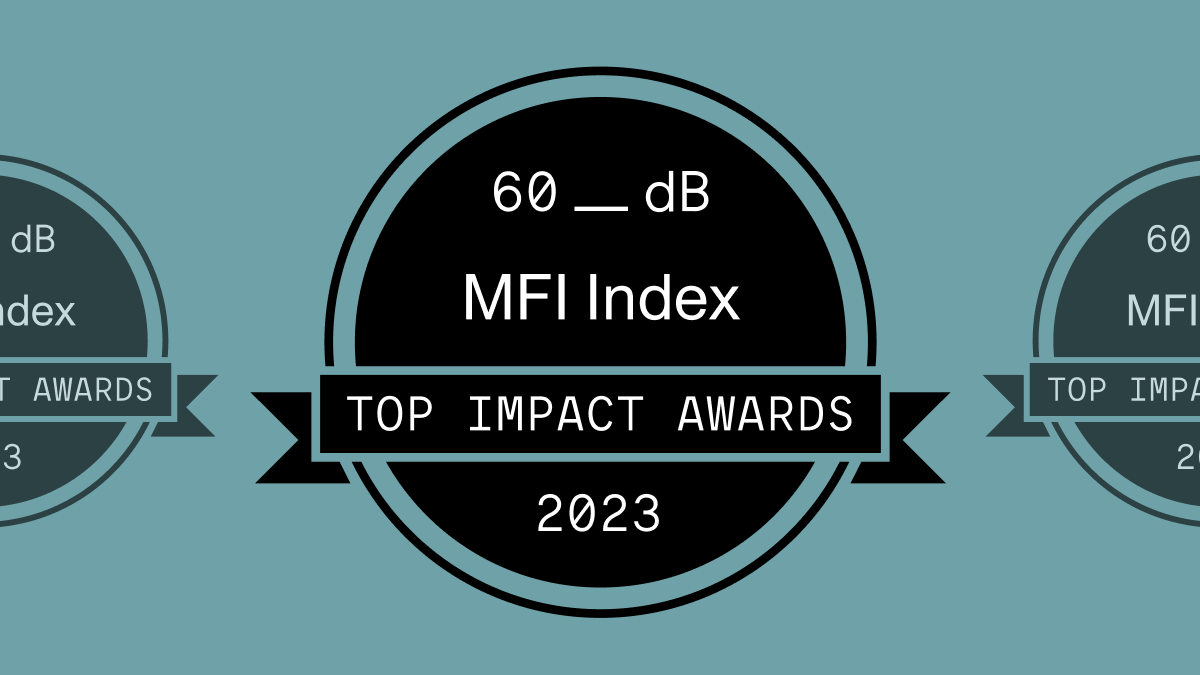 2023 Microfinance Index Top Impact Awards
Ranked across 6 different categories, these FSPs are the Top Impact Award winners in the 60 Decibels 2023 Microfinance Index.
2023 MFI Index Top Impact Awards
We're excited to celebrate the Top Impact Award winners of the 60 Decibels 2023 MFI Index – the world's largest financial inclusion index grounded in customer voice.
Find out more about the 2023 MFI Index.
Out of the 114 organizations surveyed in 32 different countries, these financial service providers (FSPs) ranked in the top 3 for their region across all six categories in the Index: Access, Business Impact, Household Impact, Client Protection, Resilience and Agency. 
Microfinance plays a crucial role in promoting financial inclusion and reducing poverty, and these FSPs have demonstrated exceptional performance in delivering financial services and making a positive impact on the lives of their clients. All award winners are listed below in alphabetical order.
Introducing the 2023 MFI Index Top Impact Awards
Top Impact Awards Selection Criteria
The Index assesses financial service providers' social performance across twenty-one indicators and six impact themes and ranks their performance by region. We use a standard survey to gather data for the indicators from a representative sample of clients at each financial service provider. All questions in the survey attempt to capture the perspective of the client. Like all survey data, these answers are subjective, and we think that's a good thing! Ultimately, it is the clients themselves who are the best judge of their experience and well-being.
To rank performance, for each financial service provider we calculate a relative score for each indicator, average the indicator scores within the same dimension, and then average the scores across dimensions for an Index score. The Index scores are ranked from highest to lowest. All indicators within each dimension are equally weighted, and all dimensions are weighted equally. However, some dimensions have a different number of indicators. For example, the Access dimension consists of three indicators and Household Impact dimension has five. 60 Decibels selected these indicators and dimensions based on experience in Financial Inclusion and with consultation from experts. 60 Decibels did not select the institutions to participate in the Index, their participation was voluntary and sponsored by their investors or by the FSPs themselves.
What is the 60 Decibels Microfinance Index?
The 60 Decibels Microfinance Index is a benchmarking tool that measures the social performance of FSPs around the world. It evaluates FSPs based on six categories: access, business impact, household impact, client protection, resilience, and agency. The Index also surveys FSP clients to understand their experience with accessing financial services and the impact it has had on their lives.
Benchmarking microfinance institutions helps identify and promote best practices in the industry. By measuring the social performance of FSPs, we can better understand how they are serving their clients and make informed decisions about where to invest resources.
Disclaimer: 60 Decibels 2023 Impact Awards and performance rankings are based on the 60 Decibels 2023 Microfinance Index . Ranking is determined based on companies evaluated in Africa, Asia, Latin America and globally. For more information, visit 60decibels.com. 60 Decibels is a registered trademark of 60 Decibels, Inc.
Access the data behind the MFI Index
Explore 3 totally new ways to access the data behind the MFI Index. Whether you are looking for dashboards to play around with the data, a deep dive into microfinance of a specific geography, or want to run customized insights discovery, we have an option to fit your organization's needs and budget. Find out more here.
Let's talk
We help you understand your social performance by listening to your customers, suppliers, employees, or beneficiaries.
Get in touch