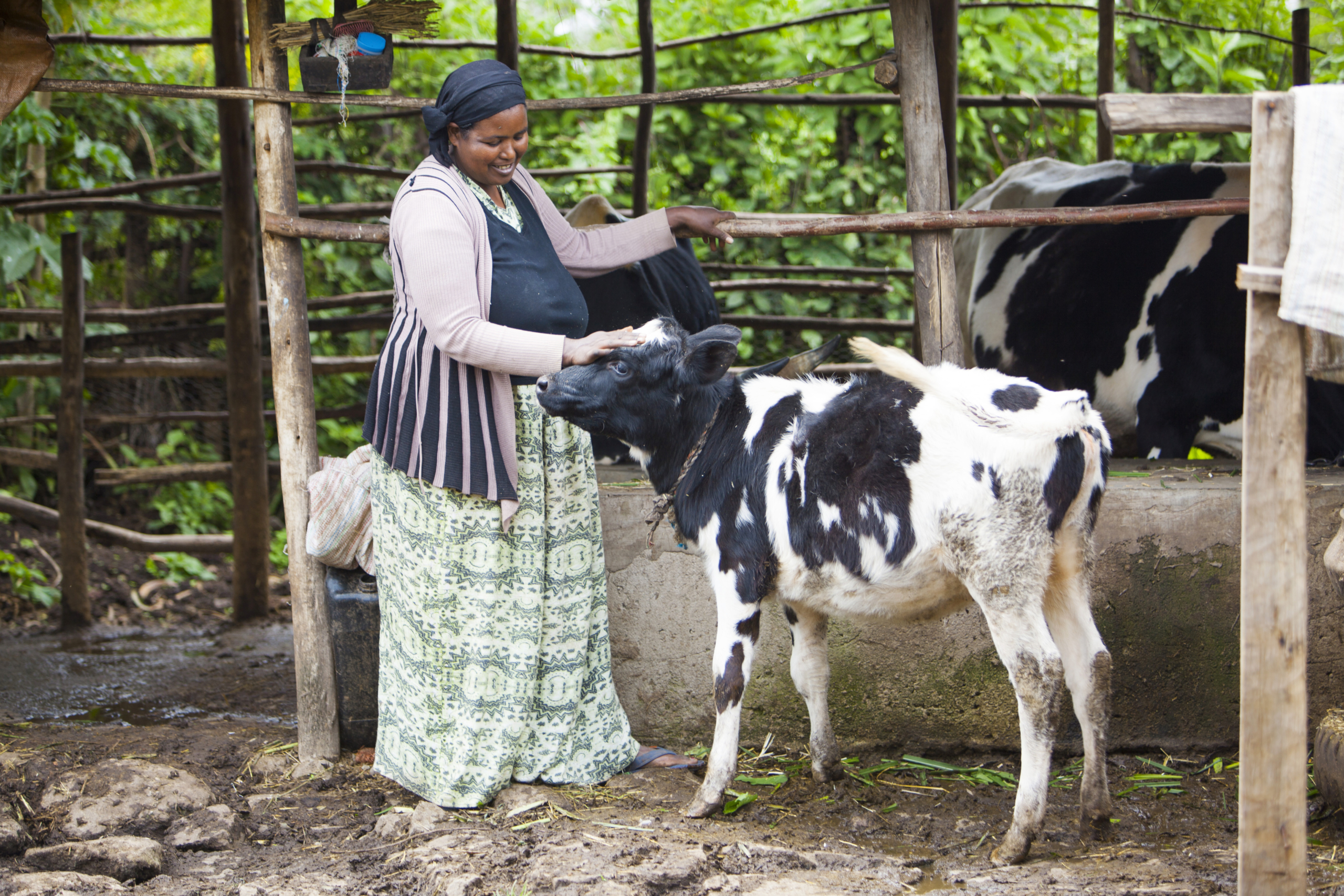 Improving Interactive Voice Response Technology for Dairy Farmers
Digital Green is enhancing Interactive Voice Response (IVR) technology to provide timely and accurate information to dairy farmers in Ethiopia on cattle care and nutrition.
This article about interactive voice response technology (IVR) was originally written by Helen Gebregiorgis, Communications Manager at Digital Green.
Ethiopia has more than 50,000 trained government development agents deployed to provide improved agricultural advisory services. However, records show that one development agent is responsible for training 300 farmers on average, which makes the advisory services delivery difficult and tiresome. Digital Green, with data support from 60 Decibels, is working to combat such problems by digitizing agricultural extension service deliveries. One of the mechanisms being used to deliver customized improved agricultural advisory services to smallholder farmers is Interactive Voice Response technology. The DAAS project aims to strengthen the existing digital extension services through the deployment of use cases. The Dairy Use-case of the DAAS project is being implemented by Precision Agriculture for Development (PAD) and utilizes the Agricultural Transformation Institution's 8028 IVR line to disseminate advisory information. The dairy component of the project focuses on the development and dissemination of advisory content in the areas of artificial insemination (AI), calf & cow management, ration formulation, and climate-smart diary.
The 60 Decibels Study
The study included interviews with 1,057 dairy farmers in Ethiopia who received advisory messages through the 8028 IVR calls, of which 59% were from the Amhara region. The samples were segmented between primary, secondary, and partial listeners based on their listening rate of the 5 advisory messages delivered through the interactive voice responsive technology. Of the interviewed farmers, 41% reported that their quality of life has very much improved due to the IVR service they are getting, of which 28% mentioned that their dairy production has increased, and 19% said they have become able to afford household bills. Listeners valued convenience, ease of understanding, and usefulness of the information.
The dairy farming advisory information is impactful and leads to tangible improvements with close to 8 in 10 listeners reporting some improvement in their quality of life, their way of farming, and cattle management. Top changes included improved cattle care, feed preparation, and feeding. Female primary listeners were less likely to report the depth of impact: the proportion reporting very much improved. Listeners who were able to apply the IVR advisory in full experienced a better impact than partial listeners. The top reasons they did not fully listen to the call were because they were at work, poor network connectivity, and language barriers. Female partial listeners reported lower levels of satisfaction and a high challenge rate compared to complete listeners.
When it comes to gender-disaggregated findings, female listeners expressed lower understanding, application, and uptake of AI services. While all listeners reported advisory information to be useful, fewer female listeners-particularly female primary listeners- reported ease in understanding, application, and uptake of the information shared.
"Most of the time women don't have a radio or anything else to learn from. 8028 helps us improve our knowledge and it is easy to use! "

-Female secondary listener, 45
About 9 in 10 male farmers applied information, compared to only 7 in 10 female farmers. Similarly, close to 8 in 10 male farmers use AI services for crossbred cattle, compared to only 65% of female listeners. According to the study, levels of decision-making ability vary by sex and listener groups, and sharing information is also likely to be between members of the same sex in a community forum. Male listeners are more likely to share information through family gatherings than females, while female listeners are more likely to share the information in one-to-one conversations and village-level community groups compared to males.
Interactive Voice Responsive Technology as a Solution; More Focus Needed on Women
The study recommended that there is an opportunity to increase the reach of women farmers and curate messages to improve female involvement through innovative ways of reaching women with messaging, including encouraging speakerphone use to listen with spouses and family members, and ensuring women are sent messages after 5 PM, given that 9 in 10 of them requested this. Similarly, the study recommends trying another way of reaching partial listeners like making callbacks at a more appropriate time that picks up from where the listener left off could increase retention and application.
The study also indicated that the project could consider providing messaging around joint decision-making to increase female levels of decision-making ability in the household. The IVR messages should reinforce the need for more equitable distribution of dairy activities within households. Besides female reach, the study recommends additional assistance to deepen the impact of the IVR messaging including encouraging and incentivizing women to share messages with other women in their households and community to increase the impact on farmers not just by interacting with them directly, but also through their family members. Improving women farmers' access to financial products could increase the adoption of AI to get crossbred cattle and in turn, potentially increase IVR's effectiveness is also recommended by the study.
Digital Agricultural Advisory Services (DAAS) project is a five-year project aimed at strengthening digital extension channels in Ethiopia. DAAS, implemented in partnership between Digital Green and Precision Agriculture for Development, the International Food Policy Research Institute (IFPRI), and the government of Ethiopia uses digital channels to provide advisory support to smallholder farmers through various digital means.
Want to explore more Agriculture-sector insights? Check them out here.
Let's talk
We help you understand your social performance by listening to your customers, suppliers, employees, or beneficiaries.
Get in touch