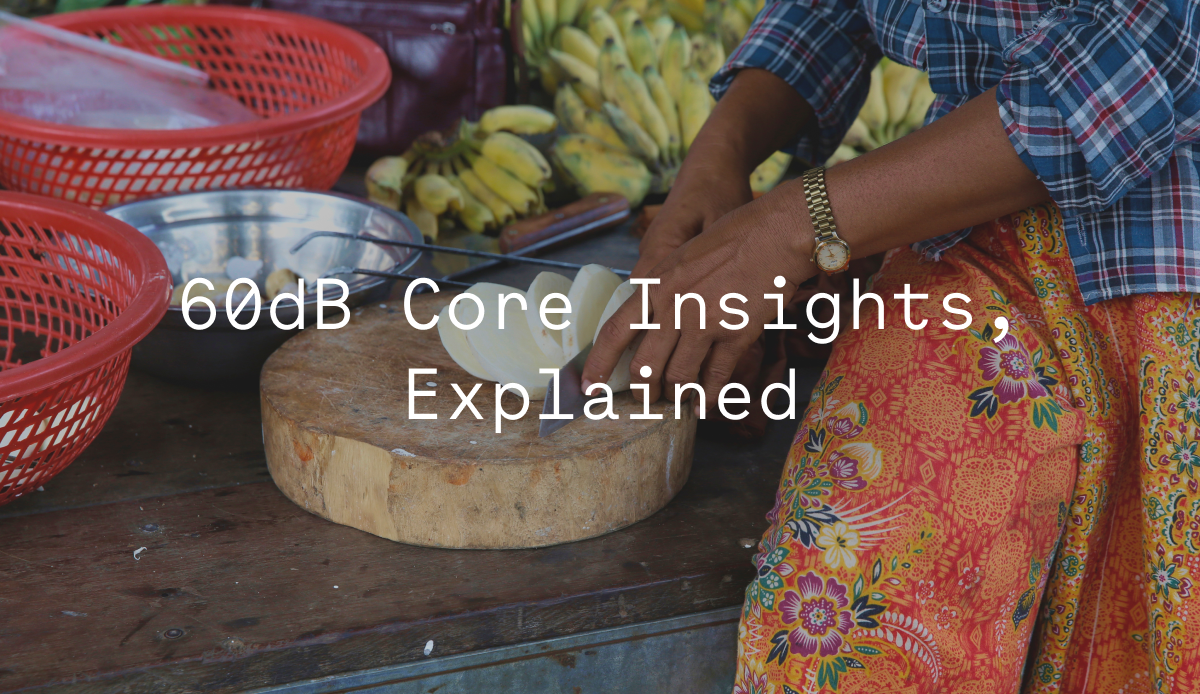 60dB Core Insights, Explained Copy
The 60 Decibels Core Insights are a great place to start on your journey with impact measurement and customer feedback. They get to the heart of what you'll want to know about your customers: who they are, what their experience is, what impact they experience from your product, what challenges they face.
60 Decibels is on a mission to provide actionable, comparable, social performance data – and our Core Insights questions are the foundation of almost every impact measurement survey we conduct. These questions can be used across all sectors and the majority of business models, and they have been proven to provide the most value to NGOs, companies, and investors.
Here's a detailed look at whether 60dB Core Insights could be a good fit for your needs.
What are Core Insights?
Core Insights are a great starting point when it comes to understanding the impact of a product or service and end-users' experiences. The questions are applicable across many sectors, countries, and languages. This is why many of our clients start with Core Insights, and why many others use them as the foundation of their work with us across diverse portfolios.
Core Insights offer a comprehensive snapshot, providing insights into:
who the organization is reaching
their customers or beneficiaries' experiences, including their level of satisfaction
the impact of the product, service, intervention, or company
We've been collecting data on our Core Insights questions for nearly a decade–across multiple sectors and in 50+ countries–meaning we have some of our deepest benchmarks for our Core Insights Questions. This means that users of our Core Insights will gain first-time insight into both their absolute and relative performance. Better yet, by understanding how you compare to others and who is best-in-class, you can learn the business practices employed by the top-performing companies in a given sector. This helps you use the data we gather to improve your business and generate more social impact.
"The income I got helped me top up the school fees balance for my children. My children are now set for the next term."

Male, 34
What do Core Insights measure?
Customer Profile
A deep understanding of the customer is the first step towards creating meaningful impact. Sometimes these results provide surprising insight, sometimes they provide concrete verification of who your customers are – either way they'll serve to give you detailed insight into who you are reaching.
Your Customer Profile captures demographic information such as:
Gender
Age
Income/poverty level
Household size
Education level
Location (rural/urban)
First access – understanding if the company is reaching previously unserved populations
Access to alternatives – understanding if the company is providing access to products/services that aren't available elsewhere
/
Experience
Positive customer experience is essential for building lasting relationships, brand loyalty, and long-term success. We ask your customers about their experience with your product/service, covering:
Customer Challenge Rate – understanding any challenges experienced with the product/service. Ease of use is important for uptake, adoption, and referrals, as well as impact.
Customer Effort Score – understanding how easy is it for customers to have their issues handled. This indicator tells us about after-sales care and customer service.
/
Satisfaction
We utilize the Net Promoter Score® (NPS, one of the most globally recognized metrics) to gauge customer satisfaction and loyalty. Satisfied customers are more likely to become advocates, creating positive word-of-mouth, and therefore contributing to increased uptake and adoption.
/
Impact
How transformative and meaningful is your product or service to people's lives?
We created an indicator to ask about well-being; asking customers whether the quality of their and their family's life has changed as a result of access to your product or service. This captures customers' direct experience of a product or service, allowing them to articulate what social impact means to them. Data from the Quality of Life question will help organizations align their business goals with social objectives for lasting change.
"The income I got helped me top up the school fees balance for my children. My children are now set for the next term."

Female, 42
Asking for Feedback as part of Core Insights
Alongside our quantitative questions, we ask open-ended qualitative questions to gain deeper insights into the "why" – customers' own articulation of their experience with a product or service. These answers enable informed decision-making around design and delivery to better meet customers' needs. And, asking these questions has a direct impact on customers' sense of feeling valued and heard.
Benefits of Core Insights
60 Decibels Core Insights are a great place to start on your journey with customer-level impact measurement, giving you quick, quantitative and qualitative data about customers' experience of social impact and product experience. So, whether you're new to impact measurement or a seasoned partner, we recommend Core Insights to ensure that you're listening to voices that matter.
If you would like to learn more about our Core Insights indicators, or any of our work at 60dB, please get in touch at hello@60decibels.com!
Let's talk
We help you understand your social performance by listening to your customers, suppliers, employees, or beneficiaries.
Get in touch