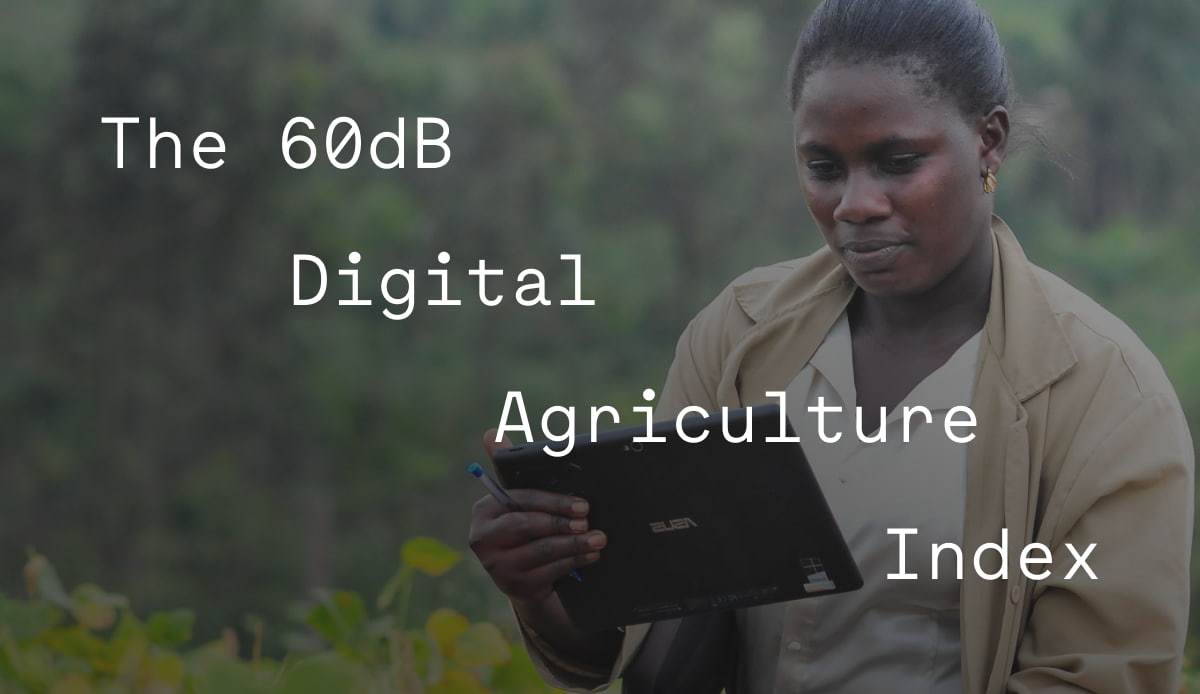 Introducing the 60dB Digital Agriculture Index
The 60dB Digital Agriculture Index is a simple way for farmers to share their experiences using digital tools across advisory, inputs, credit, buyers, and insurance services.
Digital agriculture holds the potential to transform the lives of smallholder farmers in low- and middle-income countries. With over 900 solutions on the market providing digital advisory, inputs, credit, buyers, and insurance, digital agriculture tools can reach previously underserved farmers and transform how and when farmers access these critical services. Consider a remote farmer who used to wait for an extension agent to make periodic visits to their village—now this farmer can get agronomic advice in real-time through their phone.
Unrealized potential for scale
The vast potential impact of digital advisory, inputs, credit, buyers, and insurance services has attracted innovators, investors, and donors alike. The total addressable market for digital agriculture solutions is estimated to be over 2 billion US dollars, and the sector is growing rapidly at 44% per annum. However, the sector has only realized a fraction of this potential. In sub-Saharan Africa, for instance, only 15 digital ag solutions have exceeded the 1 million registered users mark, and in many cases, only 15% to 30% of registered users are active users.
Why aren't more farmers using digital solutions?
We don't have the data to know for sure. Registrations and "active use" are low—but these are crude metrics that aren't comparable across companies and don't tell us much about if and how farmers are using these services. Digital ag enterprises cite farmers' lack of trust in phone-based transactions and low digital literacy as key barriers to adoption. However, most are not doing the UX research that innovators in other sectors might do. This lack of user research means that the products and services being developed may not be tailored to the needs and preferences of the end-users. CTA's research highlights the lessons about what doesn't work but points out that the sector hasn't yet figured out what business models do work for farmers.
From the handful of digital solutions that donors have invested in rigorously evaluating, the sector is beginning to learn. But it lacks a common approach to measuring performance, so these critical studies generate isolated insights rather than sector-wide lessons.
To position agtechs for growth and help them deliver value to the farmers they aim to serve, we need a standard approach for conducting user-centered design research on digital agriculture solutions.
The 60 Decibels Digital Agriculture Index
To truly understand what works in digital agriculture, it's time to listen to the farmers themselves. That's why we have developed the 60dB Digital Agriculture Index; a simple way for farmers to share their experiences using digital tools across advisory, inputs, credit, buyers, and insurance services. The index is designed to help Agtech companies and their investors do three things:
Understand the farmer user experience. At 60dB, listening is what we do best. Our Digital Agriculture Index goes beyond just measuring "active use" of a digital tool to understand what we call "meaningful use." Are farmers engaging with the tool in a way that is meaningful to them? What do they value most about the service, and what challenges have they faced? We'll also examine the levels of digital literacy that determine user engagement and satisfaction.
Measure the social impact of digital agriculture solutions. We have developed and tested a set of impact metrics specifically for understanding digital farmer services, measuring the impact on the quality of life and stress levels of the farmer. We also incorporate impact metrics that are tailored to the type of service, such as access to digital credit, digital market information, or digital insurance.
Benchmark their performance against peers and national averages. Benchmarking helps companies understand their performance relative to others in the same space and identify areas for improvement. We are excited to announce that we are collecting national farmer surveys in Kenya and Nigeria, two of the most mature digital agriculture ecosystems, through a partnership with the Busara Center for Behavioral Economics with support from the Bill & Melinda Gates Foundation. This provides a unique opportunity for digital ag companies in Kenya and Nigeria to compare their performance to national averages on a comprehensive set of digital agriculture impact metrics.
The Digital Agriculture Index is a powerful tool for agtech companies and investors looking to understand what works (and what doesn't!) in digital agriculture. By listening to farmers and measuring the impact of digital tools on their lives, we can help ensure that these solutions are tailored to their needs and preferences, and have a positive impact on their livelihoods.
Interested in taking part? Complete this form or reach out directly to Ellie at ellie@60decibels.com.
Let's talk
Find out more about how the Digital Agriculture Index can help you measure the impact and success of ag-tech solutions.
Contact us